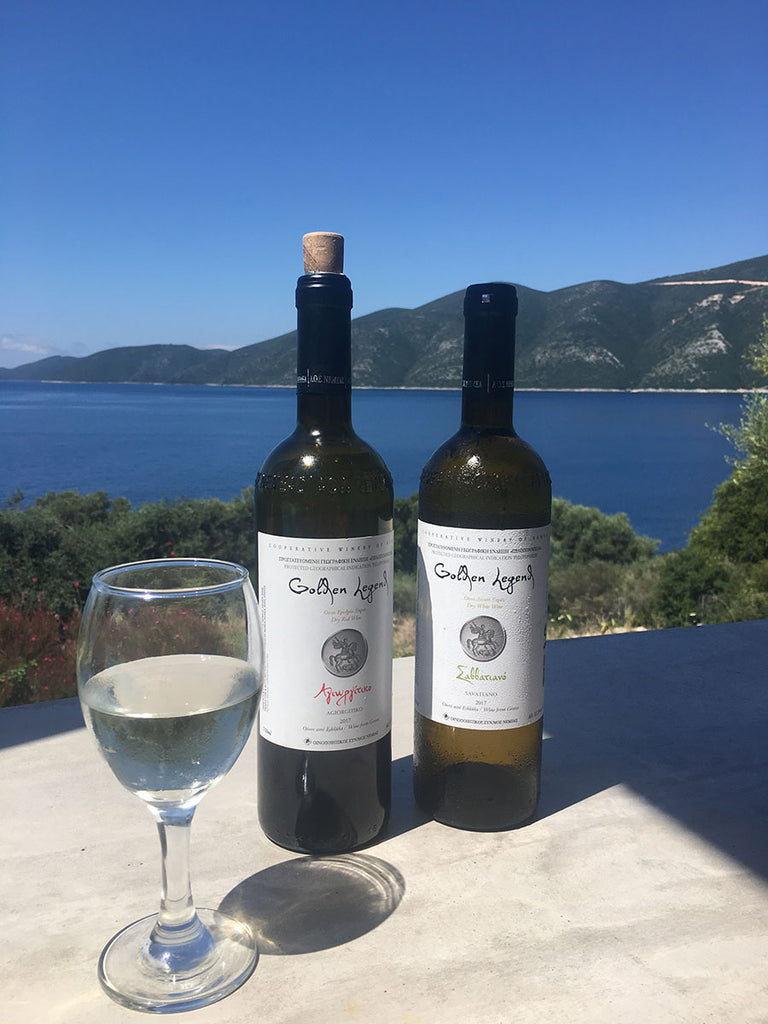 Conduit Article - August
Sun, Sea, Sand… And Wine - Holiday Wine
I'm writing my column this month looking out to the azure Ionian sea, accompanied by the relentless sound of chirping crickets, with a glass of dark Greek rosé close by. August is definitely summer holiday season so it's time to experiment with some unusual wines from holiday island destinations.
Here I am in Greece and even on this lovely island of Lefkada there are several wineries, among them is Lefkaditiki Gi, making delicious white, red and rosé - the white from Vardea and latter two from native red grapes Beptzami and Vertzami. Greece has a wine making tradition dating back 5,000 years to Dionysos and on Kefalonia, where our holiday adventure began, vine cultivation dates back 3,500 years, as according to Homer's Odyssey, Laertes bestowed 50 different grapes varieties upon his son Odysseus. Among the best of these is the white grape Robola, (genetically similar to Italy's Ribolla grape,) which makes a fragrant, lemon-scented, flinty wine not dissimilar to Spain's Albarino. I sipped a delicious glass of this made by the island's cooperative Orealios Gaea, in the pretty port of Fiskardo whilst catching strains of "Come on Eileen" and "It's Coming Home" from a nearby bar. Sadly, it didn't. Better luck next time boys.
Here in our Castle Cary shop we stock a lovely green apple, grapey, Muscat-like Moschofilero from the Greek mainland region of Nemea and a Plyto by Lyrarakis from Crete, an attractive melon, citrus and herb-scented white with rounded peachy fruit on palate. Look out for Assyrtiko from Santorini, which produces some of Greece's best whites, and don't forget Greek reds too - the cherry-scented, red fruit flavoured Agiorgitiko and the deeply coloured, Port-like Mavrodaphne which pair perfectly with barbecue sausages and fragant lamb dishes.
Italy's island of Sardinia boasts some beautiful wines: whites tend to be herbaceous, citrus-laden Vermentino and reds, plum, cherry, earthy flavoured Cannonau, aka Grenache. We stock both - under the organic Mora e Memo label in the shop in its characterful squat bottles. Sicilian wines are gaining ground as go-to inexpensive but delicious structured Italian wines with great fruit expression. If you're there on holiday do try the best red Nero d'Avolas, with their smoky, leathery berry-laded fruit and the floral, melon-favoured white Grillos - we stock both by organic winery Funaro, a snip at £15.
Wines from the Balearic island of Mallorca are also gaining recognition on the world wine stage. Particularly those from the oldest winery, Es Fangar, made from the indigenous white variety Prensal, blended with Chardonnay and Muscat. The 'Sa Fita' we stock in the shop reveals an explosion of ripe candied fruit, golden apple and quince jelly, with a backdrop of aromatic scrubland mediterranean herbs. This is a wine of such length and complexity as to rival the finest white Burgundy, and at £25 is a relative steal compared to a Chassagne-Montrachet! Check out their red 'Elements' too, made from native grapes Manto Negro and Callet, blended with international varieties Cabernet Sauvignon, Syrah and Merlot. A top-drawer, complex, cherry-flavoured red, a match to any fine Rioja or Ribera del Duero.
Finally, for those wisely stay-cationing this summer, not forgetting our own island wines, look no further than the famous Cornwall winery Camel Valley. Their dry wines are often overshadowed by the more celebrated sparklings (particularly the Brut Rosé, served to the Queen at her recent Jubilee) but ignore them at your peril. I recently sold their Bacchus to a customer who came in for a superior New Zealand Sauvignon Blanc and this is the lovely response Camel Valley received by email: "Quite simply your wine went straight to the top of my favourites list, and by some margin. Wine tasting vocabulary is not my strong point but I would say that is has a smoothness and depth of flavour missing from most of the top end 'supermarket' brands. As the wine merchant (Somerset Wine Co) is only a few miles from me I shall be visiting them soon and I look forward to enjoying the next bottle." I love satisfied customers. Happy Holidays All!
CONTACT SUSANNE OR CAMILLA AT THE SHOP

TEL: 01963 548228


info@somersetwinecompany.comThe Somerset Wine Company Ltd.
The Deli Castle Cary
Pitchings House, Market Place,
Castle Cary, Somerset BA7 7AL

Mob: 07717 396635 Shop: 01963 548228
E: info@somersetwinecompany.com
Deli: charlie@thedelicastlecary.co.uk

Opening Hours: Mon - Sat 9am - 6pm
All other times by appointment

www.somersetwinecompany.com
https://www.facebook.com/SomersetWineCompany
Twitter: @somersetwineco
Instagram: somersetwineco



LUX Guide 2017 'Best West Country Wine & Spirits Purveyor'

Runner Up as 'Newcomer of The Year' in the Drinks Retailing Awards 2016

Finalist in Muddy Stilettos 'Best Somerset Wine Merchant' 2016 & 2017
---
---