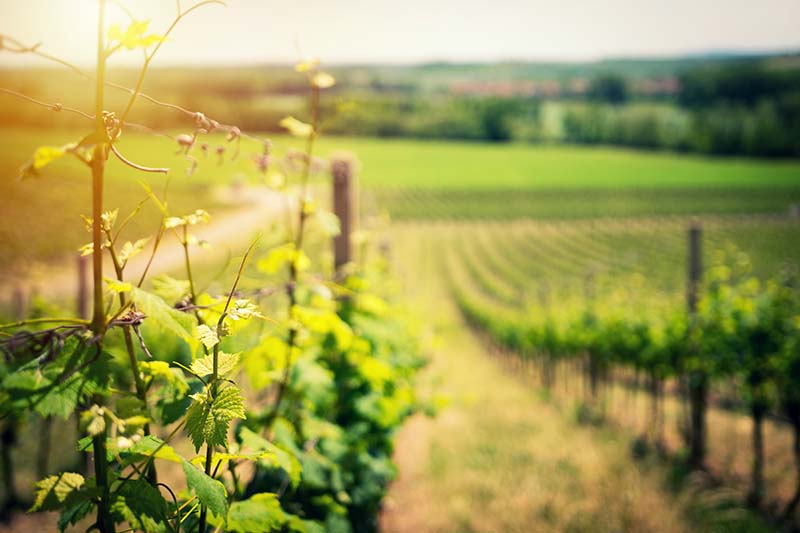 West Country Wines - Food Lover Magazine
by Camilla Wood, Founder/MD The Somerset Wine Company
As the saying goes, "It's best in the West" and as the sun starts to shine in earnest here and we reach to open a bottle of the good vinous stuff, there is no clearer example of this than in the wines of this beautiful part of the UK.
Unlike the South East and central South of UK which is dominated by sizeable wine businesses and often corporate-owned wineries, the South West's vineyards are largely small family-owned organisations. Following on from the slow food movement and 'all good things come in small packages' philosophy this means the South West can be proud of it's premium quality wines which emanate from a healthy soil-led, small, hand-worked vineyard production, which results in minimum intervention winemaking. The best wines, as they say, are made in the vineyard, which translates as that made from healthy grapes where no fuss, interference or additions are needed to craft the wines. Cheers or in South West-speak, Gurt Lush to that!
So, if your usual tipple is a glass of New Zealand Sauvignon Blanc, or, if your budget allows, a fine subtly oaked Pouilly Fumé from the Loire Valley, try Dorset's Furleigh Estate award winning, Bacchus Fumé. Bacchus is the grape variety grown here which mostly closely resembles Sauvignon Blanc in its favour profile: elderflower, citrus zesty notes, moving to tropical fruits with herbaceous, grassy tones combined with high acidity.
Tasting note: "Ripe stone fruits of peach and nectarine mingle with passion-flower and lime-blossom alongside kiwi fruit and exotic mandarin. Tropical fruits explode on the palate including pineapple, mango and guava with a touch of lime zest and gooseberry fool.
Very subtle oak integration gives a hint of vanilla and coconut on the finish. It has a slightly richer, creamy mouthfeel and well-balanced acidity with lingering flavours that pack quite a fruity punch." International Wine Challenge GOLD
If a lovely white from Macon in Burgundy is more your bag then give the Furleigh Estate West Dorset Chardonnay a go. Usually the famous Burgundian white grape Chardonnay is grown in the UK for blending with its grape collaborators, Pinot Noir and  Pinot Meunier to create our award winning sparkling wines, but here in its still form it makes a delicious rounded, peachy style.
Tasting note: Pronounced aromas of ripe Cox's apples and juicy pears with vanilla notes. The palate is crisp and vibrant with a silky mouthfeel. Flavours include bramley apple, quince and candied peel with lifted acidity and a zesty finish.  It boasts good depth of flavour with an elegant structure and excellent balance.
Staying in the county of Dorset, Langham Estate, near Bridport, has latterly garnered many awards for its stunning sparklings at international wine competitions. If you like French champagne and fancy a top-drawer glass of English sparkling then check out their Corallian and Culver blends (the former being more of a Chardonnay-centric Blanc de Blanc style) or for a delicious glass of sparkling rosé, summer pudding in a glass, then the Langham Rosé is my favourite.
Tasting note: A bright, clean and beautifully fresh sparkler. Lots of pink petal florality and soft red strawberry flesh - served on a fine blade of fresh citrus crispness. A great, sophisticated English sparkling wine from this beautiful corner of Dorset.
Moving to Somerset the county closest to my heart and eponymously named business, the wines made here are some of the best small production offerings in the UK. Take for example ex-BBC journalist Max Cotton's Glastonbury Vineyard Rosé with its life-enhancing label of his seven silhouetted children.  This is an unusual field blend of Regent, Orion and Souvignier Gris from his tiny one hectare plot. If you like Provence rosé with it's ripe summer berry fruits balanced with a savoury note and mouth-watering acidity, then this is the wine for you. Only 500 bottles made last year so it is a rare gem of a wine this season and one to grab whilst its still here!
Tasting note: Pale copper pink robe, delightfully crunchy in red fruit flavours, like cranberry and rhubarb with a trademark English hedgerow elderflower note balanced with a savoury edge. Class in a glass.
If you like the wonderfully aromatic famous grape variety Riesling, grown to such success in Germany and Alsace, then try a glass of Oatley Vineyard Leonora's 2020 vintage, made from the Kernling grape, a crossing of Riesling and Kerner. Crisp, dry, fresh, and elegant with an aromatic, fruity profile. English rose-garden scents combined with a lime and citrus backbone, this so beautifully pairs with Asian spicy dishes, seafood and salads. Grab the dog, a picnic rug and a friendly designated driver and head over towards Bridgwater for an afternoon wine-tasting at Jane and Iain Awty's heavenly vineyard home. They fulfilled the Good Life dream and jacked in their corporate careers in the mid 1980s to plant a vineyard in Somerset - making them some of the very first Somerset vignerons and true pioneers of the GB wine trade.
Returning to sparkling wine, if you are more a buyer of Cremant (the name used for any sparkling wine made outside the Champagne region in France) then do seek out Mowbarton Estate's gorgeous Somerset Sparkling Brut. 800 years ago the monks of Glastonbury made wine from grapes grown on the south-facing slopes of the Isle of Wedmore. Mowbarton Estate has revived that tradition with vines planted in view of Glastonbury Tor.
Created from a blend of three of the seven grape varieties permitted to produce champagne - Chardonnay, Pinot Blanc and Pinot Meunier, it has an aromatic nose of almond and baking spices along with red apple notes. This comes from the use of Pinot Blanc (rather than the more conventional Pinot Noir) and is more commonly seen used as the grape taking centre stage in the production of Cremant d'Alsace.
Tasting Note: Master of Wine Neil Tully describes Mowbarton Estate: 'With a pale gold colour and fine sustained mousse, this wine achieves an attractive balance of soft, cooked apple / tarte tatin flavours with a fresh, slightly grassy character.'
UK wine production is focused mainly on sparkling wines, due to our cool Northerly climate, situated on the outer limits of suitability for grape ripening. Hence it is less of a problem to produce grapes which have not ripened fully for still wines and instead which present the classic high acidity necessary for sparkling wines. Down in the far South West in the county of Cornwall where pockets of warmer micro-climates exist, the cold weather is moderated by proximity to river estuaries so grapes ripen nicely for both sparkling and still whites. Camel Valley is such a spot and produces some of the UK's most famous sparkling wines, literally fit for a King (or in our current case Queen). Camel Valley Rosé Brut and Cornwall Brut have been chosen for many a state occasion or Royal Jubilee - so if you like fine fizz and want to celebrate the Platinum Jubilee in style, look no further than the Camel Valley Cornwall Brut, crafted from a blend of the very English grape Seyval Blanc with classic Champagne grapes Chardonnay and Pinot Noir.
Tasting note: A fresh and fruity traditional method sparkling wine, perfect for all celebrations. Fresh yeasty brioche aromas, English hedgerow scents with good acidity and a touch of honey on the palate."
Finally finishing our vinous tour of the South West with a trip to deepest Devon, if you are a fan of the famous Burgundian red grape, Pinot Noir and thought that the UK can't produce decent red wines yet then let me disabuse you of that notion. Devon winery Lyme Bay has impressed the wine world with its 2020 Pinot Noir which recently scooped Gold at the International Wine Challenge 2022. The beautiful, long, hot spring and summer in Lockdown 2020 enabled the Pinot Noir grapes to fully ripen on the vine, resulting in a fine intensity of flavour and body. 30% new French oak was used as well as experimental American and Eastern European oak barrels to age the wine in for around nine months. The resulting wine has no fining or filtration to retain the delicate nuances of the fruit and oak. It demonstrates a forward primary red fruit character synonymous with young vines that will develop in intensity and potential even further with time. Those Burgundian farmers best not rest on their laurels !
Tasting note: Red stone fruit notes of cherry & plum blend blackcurrant, strawberry & toasty oak to give a rich, but balanced weight on the palate and a mouth-watering finish that lingers and evolves in the glass.
Contact Camilla at the shop
TEL: 01963 548228
The Somerset Wine Company Ltd.
The Deli Castle Cary
Pitchings House
Market Place
Castle Cary
Somerset
BA7 7AL
Mob: 07717 396635 Shop: 01963 548228
E: info@somersetwinecompany.com
Deli: charlie@thedelicastlecary.co.uk
Opening Hours: Mon - Sat 9am - 6pm
All other times by appointment
www.somersetwinecompany.com
www.facebook.com/SomersetWineCompany
Twitter: @somersetwineco
Instagram: somersetwineco
LUX Guide 2017 'Best West Country Wine & Spirits Purveyor'
Runner Up as 'Newcomer of The Year' in the Drinks Retailing Awards 2016
Finalist in Muddy Stilettos 'Best Somerset Wine Merchant' 2016 & 2017
---
---