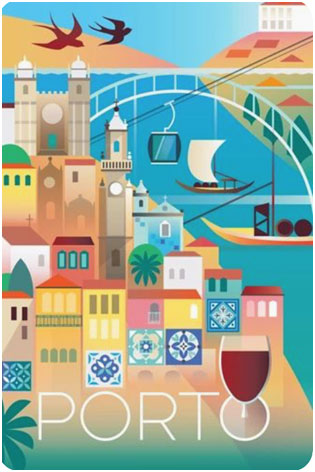 The Conduit Magazine - November 2019 Article
by Camilla Wood, Owner/MD The Somerset Wine Company
P is for Portugal - and Port
We have just completed our 10th Alphabet Series Tasting and Supper Club: me on wine, Lucas Hollweg, ex-Sunday Times food writer and critic, on food and his partner Lucie Reader on front-of-house. It feels quite an achievement in the two years we have been working together. It's not always easy to get the footfall in these rural parts, but the Club is always immensely enjoyable to host and even more gratifying to hear the satisfied plaudits post event.

We've been working our way through the alphabet to provide a theme for the vino and victuals, ("A is for Argentina, B is for Burgundy, H is for Hip, K is for Kiwi" and so on) and for number 11 we turn to Portugal next month. I'm excited: it's long been one of my favourite destinations for food and wine.

Portugal is a fascinating and often over-looked country of wine, perhaps known principally not for the juice in, but the closure of, a bottle of wine - that vital piece of cork. Or maybe for that abomination of 70s wine in a straw bottle (read lamp base), Mateus rosé! For a small country Portugal is remarkable for it's wealth of indigenous grape varieties that provide a point of difference from many other wine producing European countries. Think Arinto, Antao Vaz, Roupeiro and Maria Gomes for whites; Alicante Bouschet, Trincadeira, Alfrochiero and Baga for reds. It can also be immensely confusing with the same grapes named differently according to the region they are grown in, namely the principal grape of Spain's Rioja, Tempranillo, called variously Aragones and Tinto Roriz from Portugal's south to north. International grape varieties such as Chardonnay, Cabernet Sauvignon, Merlot and Syrah unashamedly play their roles in blending and the whole is certainly greater than the sum of the parts.


The sizeable wine industry that has grown up in this small country of diverse climatic conditions owes much to its isolated geographic position on the edge of the Iberian peninsula and thus to foreign trade. The British have always enjoyed an 'entente cordiale' with the Portuguese thanks in no small part to a converse relationship with the French. When England and France were at war in the 17th century, Portugal was the natural alternative source for wine, namely the sweet fortified wine Port, the so-called "Englishman's wine". Strengthened and stabilised by fortification with grape spirit, Port wine could withstand the long hot journey by ship to the UK and thus avoided spoilage. The Metheun treaty in 1703 declared tax advantages for Portuguese wines over those from other nations and a friendly trade relationship between our nations has existed ever since. This is not solely based on Port but on other table wines also - from the spritzy, refreshing Vinho Verde wines of the North to the richer, stone-fruited whites of Tejo and Alentejo and the robust, fruit-cake and violets fragranced reds of the Douro Valley.

Port, the most famous export of Portugal and the Douro is quintessentially linked to Christmas in our psyche so, as the season of goodwill approaches, our next Supper Club will celebrate this most festive of drinks, along with its Douro table wine companions. And who better to espouse its qualities and tell of its history than Jamie Graham, of the well-known Graham's Port family. I have loved stocking Ports and table wines from Churchill Grahams (the youngest boutique Port house established by Jamie's father Johnny in 1981) ever since I was generously hosted in Oporto by Johnny a decade or so ago. The company is named after Johnny's wife, Caroline Churchill, who in a neat piece of local life tapestry, grew up in Bruton. On Saturday 7th December Jamie will be joining us to talk through some of the House's finest Ports and table wines accompanied by a Portuguese themed menu by Lucas Hollweg. This will be a true vinous, culinary and cultural feast, not to be missed! Price £48 per head for 3 courses and all tasting wines. For advance tickets please call the Somerset Wine Co. shop on 01963 548228 or email info@somersetwinecompany.com. More details will follow on this and other supper clubs to those registered on our customer base: so please sign up by going to www.somersetwinecompany.com/events
CONTACT JESSICA OR CAMILLA AT THE SHOP
TEL: 01963 548228
The Somerset Wine Company Ltd.
The Deli Castle Cary
Pitchings House
Market Place
Castle Cary
Somerset
BA7 7AL

Mob: 07717 396635 Shop: 01963 548228
E: info@somersetwinecompany.com
Deli: charlie@thedelicastlecary.co.uk

Opening Hours: Mon - Sat 9am - 6pm
All other times by appointment

www.somersetwinecompany.com
https://www.facebook.com/SomersetWineCompany
Twitter: @somersetwineco
Instagram: somersetwineco



LUX Guide 2017 'Best West Country Wine & Spirits Purveyor'

Runner Up as 'Newcomer of The Year' in the Drinks Retailing Awards 2016

Finalist in Muddy Stilettos 'Best Somerset Wine Merchant' 2016 & 2017
---
---