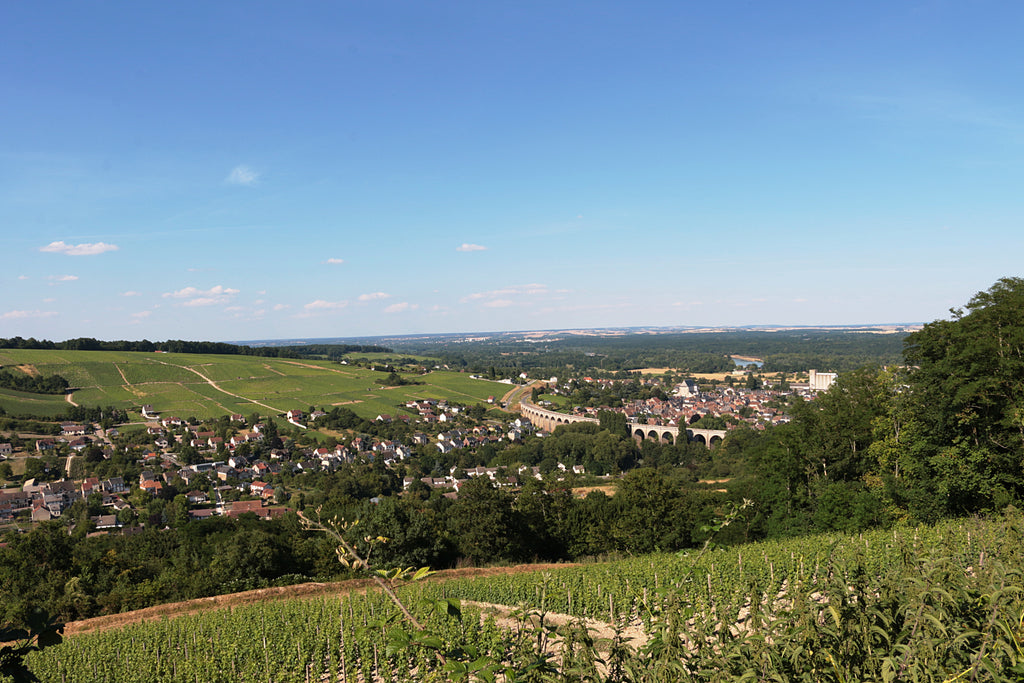 Loire Valley Trip - 15-19 November 2021
by Camilla Wood, Founder/MD The Somerset Wine Company
"It's not the fittest of the species that survives, nor the most intelligent, rather those most responsive to change" - Darwin's words here came to mind as we concluded our trip over a beautiful dinner at a restaurant in Saumur. These days with the spectre of global warming looming large over winemakers in many parts of the world, adapt and change is the message we took away. We saw this in the attitude of several smaller businesses we met: the best of them, a 5th generation grower-family turned winemakers - Domaine du Vieil Orme, one of the highlights of the trip (Elliot the dog helped score points). Reducing vineyard holdings to ensure more time was focused on their remaining land, respecting nature and the environment and becoming HVE certified (Haute Valeur Environmentale) a label which neatly fits under Organic certification but is more achievable/less costly for smaller producers. Investment in a winery at Vieil Orme followed and as a result we saw quality wines across the spectrum of Cremant, Touraine and Chenonceaux Sauvignon Blanc, Anjou Chenin, an excellent dry rosé (a blend of the local Cot and Cabernet Franc) and some classy, opulently fruit driven, full-bodied Cot/Cab Franc blends which some of us noted would benefit from time in a barrel to soften and complete structure. This was an adventurous, adaptable, pioneering but typically modest farming family letting the land talk for them.

Other highlights of the trip were in fact highdarks. I wasn't expecting to go potholing or try out life as a troglodyte, but of course the Central Loire region with its tuffaut limestone platform of rock offers incredible caves for ageing wine. We followed passionate winemakers, Benoit Gautier and Sebastien Vigneau through their corridor-like caves cut deep into the hillsides above Vouvray and Chançay. The latter, at Domaine Vigneau Chevreau revealed wines amongst the most memorable of the trip: taut, baked apple and stone fruit layered Pet Nats and the most sublime Chenin Blanc, Cuveé de Silex now in a richer style due to hotter vintages but no less complex and beautiful for it, in my view. Their 1990 Clos Baglin dessert wine was a very special conclusion to the tour here, but it felt bittersweet as Sebastien lamented his poor 2021 harvest - 80% lost due to harsh spring frosts, hail in early June and mildew in early July, a sure consequence of climate change. He seemed downcast at his fuller-bodied Vouvray styles and with his struggle to keep the famous acidity and resulting flinty tension in his Chenin Blancs. Intelligent wineries such as Vigneau Chevreau are nonetheless busy grafting their vines to change grape structure and give later ripening varieties to hold in this revered acidity, but recognise this is a crucial crossroads in their history: adapt or die. The frustration for these winemakers is that these changes take a decade or more from which to see results.

Continuing the troglodyte theme, we drove our cars some 20m deep into the Bond-villain-esque caves below St Nicholas de Borgeuil, a region renowned for its excellent spicy red fruit-led Cabernet Francs with fresh acidity, no white grapes are permitted here. We were treated to an elegant lunch and tasting in a chilly cave, warmed by a roaring fire of vine cuttings, by the equally elegant owner of Vignoble de la Jarnoterie, Carine Reze. A musican turned-winemaker, Carine's wines were indeed lyrical with floral notes of violets, redcurrants, cranberries and tobacco-leaf, balanced with finely grained tannins and this marked refreshing acidity. Musical-themed wine names added interest if not quite the high notes we were hoping for in the wines.

Chinon is a region most wine drinkers will recognise via its justifiably fine reputation for great Chinon Blanc made with the Chenin Blanc grape and Chinons, the eponymously named famous Cabernet Francs. Here on our visit to a vineyard just south of the stunning town of Chinon our expectations were rightly proved. Domaine Eric Gaultier, formerly Domaine Dozon, a second-career winemaker, has produced some lovely wines from 40 year old vines grown on limestone terroir for Chenin Blanc and clay for a richer, weightier style of Cab Franc, all protected by the encircling forests near the vineyards. Eric's Le Saut Au Loup monopole vineyard provided beautiful terroir for his perfumed, rich cherry and raspberry leaf with mint noted Cabernet Francs - all with an elegant medicinal lift on the finish. His gorgeous (and well-priced) Chenin Blanc, with a classic wet wool nose and on palate redolent with flavours of quince and custard apple fleshed out with 9 months on the lees and softened by short oak ageing, was the one bottle I decided was coming home in my suitcase! A plea here though, please improve your labels Monsieur Gaultier for the aesthetically competitive and diverse UK wine market!

In other wineries we visited the sorry sight of empty tanks (interestingly made here in the Central Loire from a resinous fibreglass material lending the wineries a 1970s Fifty Shades of Beige look) from the poor 2021 harvest were lowlights of the trip. From Vouvray to Touraine at Domaine de la Renne, the same story emanated: not since 1991 had a harvest been so small. Ironically, only the visit which proved the nadir of the trip, to a bulk winery where every wine showed as sugary, non-descript alcoholic grape juice, was the owner pleased as punch with his volumes and here there was no mention made of care in his vineyards, not even where they were located - revealing the truism that the best wines are made in the vineyard not to a recipe in the winery. It's always so revealing to see the other (dark!) side of the wine trade: whilst what we choose to drink is a determinedly personal choice, those wines for sale in certain budget supermarkets do a disservice to a region and to the typicity of its grape varieties, and don't help us as a nation combat growing rates of Type 2 Diabetes.

The Middle Loire wine region where we focused our trip is world renowned for its sweet wines and these were certainly a highlight. I had some knowledge of Coteaux du Layon and Quarts du Chaume but not the Coteaux l'Aubance of which we tried a heavenly example by Vincent Ésnou at his rustic but authentic Domaine de la Belle Etoile near Brissac. This paired so beautifully with the gorgeously abundant cheeseboard and later in the day the sweet wines of Chateau de Bellevue sung out strongly, preceded by a tasting of a wonderfully nutty, marmelade-noted, oxidative Coteaux du Layon Moulin Touchais 1977 represented by the very impressive Caves de La Loire.

The Loire Valley region is without doubt facing challenges, like many other world wine regions, brought on by factors associated with climate change. However 'the fittest of the winemaker species' are adapting and will survive via finding solutions such as grafting, clone and site selection and embracing richer, fuller-bodied styles which both Cabernet Franc and Chenin Blanc can cope with. Touraine Sauvignon as a category remains in a strong place and generally provides a decent quality versus value position.

Furthermore, the best Loire wines will change and evolve and continue to keep their place on the world wine stage. As proof of this, the stunning Burgundian-like walled vineyard at Domaine Clos Cristal in Saumur-Champigny produced a prestige wine of determinedly international aspirations: Cabernet Franc with a confident oak profile which could hold its own on any tech billionaire's table. Final word goes to the Domaine's founder, the visionary Antoine Cristal, friend to Georges Clemenceau and Claude Monet, whose wines graced the tables of the court of Edward VII among others; Cristal used to say of his wines 100 years ago that he wasn't making wine but creating pleasure. There is certainly still plenty of pleasure to be had in drinking the best of the Middle Loire's wines and pleasure to be had from visiting the generous farmers of this lovely region.
Contact Camilla at the shop
TEL: 01963 548228
The Somerset Wine Company Ltd.
The Deli Castle Cary
Pitchings House
Market Place
Castle Cary
Somerset
BA7 7AL

Mob: 07717 396635 Shop: 01963 548228
E: info@somersetwinecompany.com
Deli: charlie@thedelicastlecary.co.uk

Opening Hours: Mon - Sat 9am - 6pm
All other times by appointment

www.somersetwinecompany.com
https://www.facebook.com/SomersetWineCompany
Twitter: @somersetwineco
Instagram: somersetwineco



LUX Guide 2017 'Best West Country Wine & Spirits Purveyor'

Runner Up as 'Newcomer of The Year' in the Drinks Retailing Awards 2016

Finalist in Muddy Stilettos 'Best Somerset Wine Merchant' 2016 & 2017
---
---