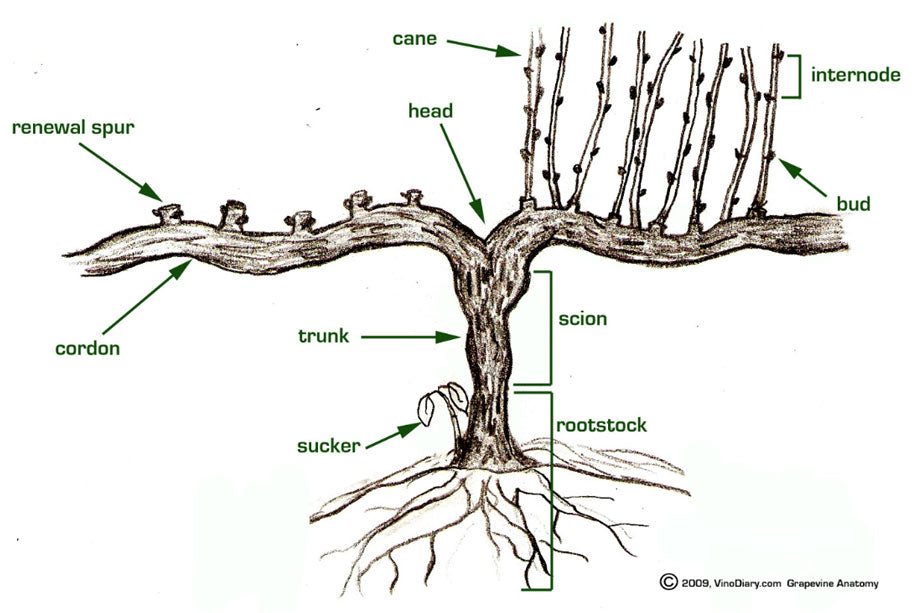 The Conduit Magazine - February Article
by Camilla Wood, Owner/MD The Somerset Wine Company
Winter Vine Pruning
Fancy Learning? Read On . . . . .
February is not the most exciting time in the retail wine trade, with customers' post-Christmas austerity measures often extending through to this month, or perhaps, if they have any sense, they have just removed to South Africa or the Carribbean! The only significant date this month is the dreaded commercial nadir of Valentine's Day and I refuse to pen a column about wines with which to woo your loved one. Oh OK gentlemen, you twist my arm, maybe seek out a nice Saint Amour, that most northerly of Beaujolais crus to serve with a lovely salmon dish, or just buy a bottle of gorgeous fizz instead, a sure-fire way to a woman's heart. We import the wonderful Benoit Cocteaux champagnes and I would recommend the elegant Rosé d'Hélène, named by Benoit for his wife - and if that isn't romantic I don't know what is!
So back to the real business in February in wine-land and that is to finish winter pruning in the vineyard. The dormant vines might look barren and lifeless but man's intervention in pruning them now will ensure great health and prosperity for the vines not just for this growing season but for next year as well.
It is a tricky business, pruning, but a skill well worth learning. Last year, on a bitter, rainy day in early February, a group of hardy and horticulturally curious customers and I pitched up at Guy Smith and Laura Evans' vineyard in Aller, near Langport, home of the eponymous Smith & Evans Somerset Sparkling. Their hectare of Pinot Noir, Pinot Meunier, Chardonnay and Bacchus vines has produced award-winning wines since 2010 and they are going from strength to strength, as their Silver IWC medal in 2017 testifies. We donned our raincoats and woolly hats, clasped our secateurs and braved the elements. Under Guy's expert tutelage, we cut back several rows of denuded, straggly vines to the essential 2 renewal spurs and 4 canes. As Guy explained, they usually start the pruning process in January when the canes have become very woody.  They use the cane pruning method, more common in cooler climates, as by limiting the vine's lignified (hard, woody) part to just the trunk the vine is less vulnerable to frost damage.
Fruit is produced only on shoots from one year old canes; therefore strong new canes must be produced every year to maintain good production. Cane pruning (or Guyot) takes great skill to do well as it requires manually cutting back almost all of the vine's prior growth and correctly selecting 4 canes (in Smith & Evans' case) that will be responsible for next season's production. Canes are selected for two purposes: to provide shoots for the coming season and healthy shoots for the next dormant season. 2 spurs (the part on the horizontal trunk or cordon where the buds emerge) must be identified and retained for the following year.
For me, the experience felt not unlike a 70s Krypton Factor episode where the contestants struggle to replicate a complex 3D puzzle with the clock-ticking (it was the rain this time). I was not a natural and was shamefully shown up by my 16 year old (engineering-minded) son who confidently got the gist within minutes and was racing up the row leaving me several vines behind, scratching my head.
By popular demand, we are organising a return visit to Smith & Evans this year on Saturday February 9th at 10.30am, for more pruning enthusiasts, those who wish to learn, or just practise (in my case!). The reward is always a fine lunch of soup, cheeses and charcuterie along with a tasting of Smith & Evans' wines - therein lies the real treat!
To book your tickets (£15 per head) please call the shop on 01963 548228 or email
info@somersetwinecompany.com
. Oh and Happy Valentine's Day!
CONTACT SUSANNE OR CAMILLA AT THE SHOP

TEL: 01963 548228
The Somerset Wine Company Ltd.
The Deli Castle Cary
Pitchings House
Market Place
Castle Cary
Somerset
BA7 7AL

Mob: 07717 396635 Shop: 01963 548228
E: info@somersetwinecompany.com
Deli: charlie@thedelicastlecary.co.uk

Opening Hours: Mon - Sat 9am - 6pm
All other times by appointment

www.somersetwinecompany.com
https://www.facebook.com/SomersetWineCompany
Twitter: @somersetwineco
Instagram: somersetwineco



LUX Guide 2017 'Best West Country Wine & Spirits Purveyor'

Runner Up as 'Newcomer of The Year' in the Drinks Retailing Awards 2016

Finalist in Muddy Stilettos 'Best Somerset Wine Merchant' 2016 & 2017
---
---