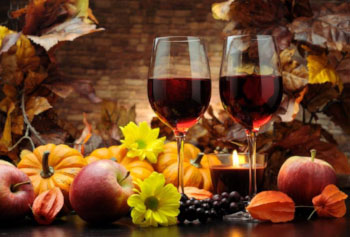 The Conduit Magazine - October Article
by Camilla Wood, Owner/MD The Somerset Wine Company
"Let's Drink To The Seasons!"
 As late summer creeps into autumn, the evening light turns a more burnished shade of copper and the air takes on a distinctly brisk chill, are you feeling a little uncomfortable cracking open yet another bottle of summer-berry laden rosé, or frothy Prosecco? How fortunate we were this summer to have the sunshine and heat akin to Provence, or Italy, to accompany our wine choices. But, poignant as it is to kiss goodbye to the summer, there are benefits to embracing a new season when it comes to wine drinking. 'Tis the season to switch perhaps to a darker hued, more savoury rosé (think rose-hipped Tavel from the Southern Rhone, or South African Babylonstoren's lovely rhubarby Mourvèdre Rosé) those which pair well with heavier food and are not so pale you need a beach or a rose-scented garden in which to drink them.
I love this change of season which seems to cry out for opening weightier, more rounded, stone fruit-led whites with good structure and creaminess. My palate has tired now of zesty, lip-smacking Picpoul with its high acidity and herbal, citrussy Verdicchio, perfect as these wines are in the heat of summer. Autumn presents the opportunity not just to buy a nice new coat in readiness for winter, but also to enjoy a rich, ripe quince and peach flavoured white Cotes du Rhone, (yes, it's not just the reds which are famous here), or a floral Viognier with good viscosity and fruit characters of pears and apricots. We have two beautiful examples in the shop which we import directly from a wonderful family-led cooperative in the Gard region of France, Cellier des Chartreux. The Viognier at £11.50 punches well above its weight and the white Rhone is vinified there by famous ex French rugby international (and later Sale Sharks player) Sebastien Chabal and at £15 offers a lot of wine for the money and will not disappoint any fan of richer white Burgundy. Of course Chardonnay too, either buttery, oaked styles or leaner unoaked make lovely drinking companions in the cooler months.
Don't forget Chenin Blanc in the autumn and winter too, a grape variety which can be accused of being lightweight and akin to a tropical-fruit cocktail. Give it some great terroir, barrel fermentation and lees-stirring to impart a gorgeous creamy mouthfeel and you have one of the great whites of the world, in my view. Think Savennieres from the Loire Valley and Chinon Blanc - we have stunning examples in the shop - Silice by Marc Plouzeau and Leeuwenkhuil's Heritage Chenin Blanc, a nutty, honeyed wine with great texture from Swartland in South Africa.  Southern Italian whites have a place in this season too: bright straw yellow with orchard-fruit flavours, nicely offset by zesty acidity abound in Falanghina and Greco di Tufo wines from Campania and Grillo from Sicily with it's greengage and melon notes.
Autumn weather, and cuisine, offer the best excuse for re-establishing close friendships with red wines of course. I like a fuller-bodied New World Pinot Noir in this season, with its red fruits and earthy notes, sometimes along with scents of wet leaves and truffles. It makes you want to kick up some leaves and light a bonfire. Chile has some good cheaper examples (see our Santa Macarena at only £10.50) but New Zealand wears the crown - Auntsfield and Greystone being two of our best. As for the heavier, black-fruited Malbecs, Clarets and Amarones, well, they will make winter bearable! So, using the seasons to dictate our wine, and of course food, choices is a natural and healthy approach which keeps us connected to nature, therefore more evenly balanced, accepting of and indeed grateful for, the changing world around us.
CONTACT SUSANNE OR CAMILLA AT THE SHOP

01963 548228
or email
The Somerset Wine Company Ltd.
The Deli Castle Cary
Pitchings House, Market Place,
Castle Cary, Somerset BA7 7AL
Mob: 07717 396635 Shop: 01963 548228 E: info@somersetwinecompany.com
Deli: charlie@thedelicastlecary.co.uk
Opening Hours: Mon - Sat 9am - 6pm
All other times by appointment
www.somersetwinecompany.com
https://www.facebook.com/SomersetWineCompany
Twitter: @somersetwineco
Instagram: somersetwineco
LUX Guide 2017 'Best West Country Wine & Spirits Purveyor'
Runner Up as 'Newcomer of The Year' in the Drinks Retailing Awards 2016
Finalist in Muddy Stilettos 'Best Somerset Wine Merchant' 2016 & 2017
---
---